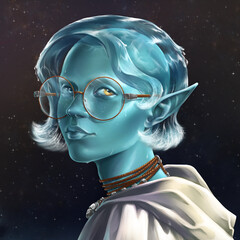 Claudia Morell
Concept Artist and Illustrator
Orlando, United States
Summary
Concept artist and illustrator with experience in 3D modeling and game development.
I love working on designs that push the story telling aspects of a character and environment. My inspiration derives from history, fashion, and fantasy, which empowers my design goals to create something unique that could really exist in our world. When I'm not drawing I'm most likely going to antique shops, playing video games, or looking at beautiful clothing online.
Skills
Concept Art
Digital Painting
Illustration
3D Modeling
Digital Sculpting
Environment Modeling
Hard Surface Modeling
Low-poly Modeling
Character Design
Drawing
High-poly Modeling
Visual Development
Comic Art
Traditional Art
Software proficiency
Experience
Concept Artist at Not Suspicious LLC.

Orlando, United States of America

October 2021 - October 2022

- Create concepts for a VR sci-fi game, including ships, environments, robots,

characters, and machinery the player can interact with while ensuring all content

met the VR best-practices developed for the Quest 2.

- Maintain a pre-existing art style while visually enhancing new content.

- Use VR tools such as TiltBrush and Meta's Horizon Worlds to convey the visual

target during the pre-production of new content.

- Collaborated daily with other developers to bring the team's vision to life.

Concept Artist at Glass Cat Productions

Orlando, United States of America

August 2020 - December 2020

- Contract position for designing characters, vehicles, environments, and props

based on a wide range of different eras including prehistoric, 1920's, ect.

- Created six characters with 36 interchangeable outfits with unique twists on each

character.

- Modeled proxy assets of vehicles in Maya to aid in concept design.

- Used white-box levels to create draw-over concepts of environments.


Concept and Environment Artist at Axolotl Productions

Orlando, United States of America

December 2019 - April 2020

- Concepted the main character, major props, and large environmental pieces in

collaboration with the Art Lead, animator, and rigger.

- Crafted opening cinematic through the storyboarding and painting process.

Worked with the video editor to plan effects and animations.

- Illustrated images used as promotional material such as posters and banners.

- Sculpted, modeled, and textured 3D assets including ancient statues, ramps, and

the main temple as an Environment Artist.

- Reached the top percentage for accuracy rates for task estimates.